WARNING: This product contains nicotine. Nicotine is an addictive chemical.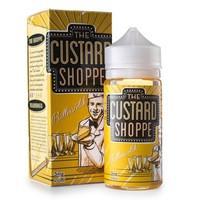 The Custard Shoppe Butterscotch 100ml Ejuice
Jam Monster is indeed a beast when it comes to making the best homemade jam and desserts for you to vape! Jam Monster presents a line of e-Liquids, The Custard Shoppe, that takes vaping to a new level.
Butterscotch, by The Custard Shoppe, is the delectable blend of rich butterscotch and creamy custard pie. These two flavors deliver a decadent and irresistible custard pie flavor that' s hard to match. Every vape experience will allow you to inhale sticky, warm butterscotch like you've never experienced before. On the exhale, you'll release the taste of delicious custard pie straight from grandma's oven. 
The 100mL Chubby Gorilla Bottle of The Custard Shoppe Butterscotch consists of 75% Vegetable Glycerin (VG) and 25% Propylene Glycol (PG). This vape will hold a strong flavor and produce thick clouds of smoke. There are available nicotine levels of 0mg, 3mg.and 6mg.
Package Contents:
1 x 100mL Chubby Gorilla Bottle 
Product Specifications:
Primary Flavors: Butterscotch, Custard Pie

Bottle Size: 100mL

Nicotine Levels: 0mg, 3mg, 6mg

VG/PG: 75VG/25PG

Made In USA
Vape Juice Disclaimer:
E-Liquids are designed for use by persons of legal smoking age. All e-Liquids should be stored out of reach from children and pets. Some of our e-Liquids may contain Nicotine which can be poisonous or even lethal if inhaled or consumed in large amounts. Please do not drink e-Liquids. If such incident occurs, contact your local Poison Control Center.
Do not use e-Liquids if you have any underlying medical condition which may be intensified or worsened by this product. e-liquids may contain small amounts of nuts, gluten, sugar or other sweeteners in the flavoring. Flavorings may also contain artificial colors, artificial flavors and/or artificial sweeteners. Do not use this product if you are allergic or sensitive to any of the common ingredients in e-liquids, such as Propylene Glycol, Vegetable Glycerin or Nicotine. e-Liquids are not for use by women who are nursing, pregnant or are planning to become pregnant. Choosing flavors of e-Liquid should be based on your personal liking.
The descriptive flavors of e-Liquids are subjective due to the difference in taste buds among e-Cigarette users. For the best quality and taste of your e-Liquid, shake well before each use. 
VapinGorilla.com will not be held liable for injuries resulting from the use or misuse of any E-Liquid product sold on this website. USE ALL PRODUCTS ON THIS SITE IS USE AT YOUR OWN RISK. Due to personal preferences and tastes, we are unable to offer returns, refunds or exchanges for E-Liquid products. All E-Liquid purchases are final.
WARNING: This product can expose you to chemicals including Benzene, Isoprene, Formaldehyde, Diethylene Glycol, Toluene, Acetaldehyde, Cadmium, Lead, Nickel and N-Nirosonornicotine, which are listed in California's Proposition 65, the Safe Drinking Water and Toxic Enforcement Act of 1986. The Proposition is designed to protect California citizens and the State's drinking water sources from chemicals known to cause cancer, birth defects or other reproductive harm, and to inform citizens about exposures to such chemicals. For more information go to www.P65Warnings.ca.gov.